Download to get our insights on...
How to make

developing an offshore wind farm as easy as ABC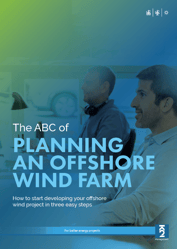 Offshore wind farms are complex feats of engineering, with hundreds of turbines harnessing the power of the wind.
But that doesn't mean that developing an offshore wind project needs to be overly complex.
If you don't know your MSP from your O&M or if you always get your AEP mixed up with your EYA then our simple ABC guide can help to set you onto the right track.
By following our simple guide to wind farm planning, we can help to make the process as easy as A, B, and C.
Download the full guide for the best possible wind project.