Download to get our insights on...
Turbine Interaction Effects: K2 Management's Validated Approach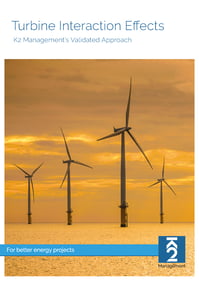 With the growing scale of wind farms, both onshore and offshore, there has been increased focus on wake, or turbine interaction, effects in recent years. The blockage effect has also been a hot topic in the industry over the past year and K2 Management has been a leading participant in this conversation.
This document delves into the blockage effect and describes K2 Management's wake modelling and turbine interaction effects calculation method alongside the validation and theoretical considerations which it is based upon.
Complete the form to download our validated approach document and have it delivered straight to your mailbox.